Leamington District Secondary School in Leamington, Ontario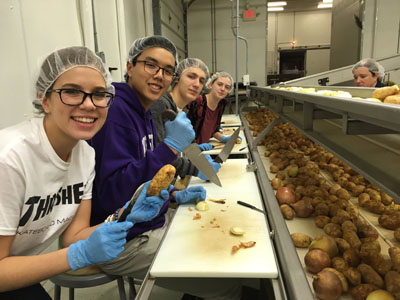 Students at Leamington District Secondary School focused their action project on the topic of food waste. They volunteered at Southwestern Ontario Gleaners, processing unmarketable fruits and vegetables into a dehydrated soup mix that was then made available, free-of-charge to food banks and relief agencies.
Just before Climate Action 150 began, the school's EcoTeam submitted a food waste reduction idea to Ontario Budget Talks. Their idea called for re-examining the best before date labeling in Ontario, encouraging the agricultural industry and supermarkets to sell "less than perfect" produce and educating consumers about better purchasing decisions to reduce food waste at home and in business.
Leamington's input helped put Reducing and Preventing Food Waste in the list of top three ideas, with $600,000 allocated to this. What was so effective about their pitch? Here's the LDSS Eco Team's input:
"Banning supermarket food waste has been very successful in France and is currently being considered in numerous European countries. The UN has reported that if food waste were a country, it would be the third largest greenhouse gas emitter after China and the US - that puts things in perspective. We have a shared responsibility to meet the UN Sustainable Development Goals to reduce food waste by 50% by 2030. Ontario has done very little to address the food waste issue. In Ontario, we need to re-examine best before date labeling - often food is discarded unnecessarily. The agricultural industry and supermarkets should be encouraged to sell "less than perfect" produce (with small blemishes and irregular shapes) at a reduced cost rather than wasting it. Educating the consumer about this issue is necessary to encourage them to purchase less-than-perfect produce and to reduce food waste at home and in businesses. This will take a re-imagining of the entire food supply system, but it is absolutely worth the effort."
To learn more about this project, please contact Lisa Jeffery at: Lisa.jeffery@publicboard.ca